Well, not
crazy
but so busy I thought I might go crazy. For one thing TODAY IS THE FIRST DAY OF SCHOOL!!! So of course I had a ton of last minute things to do. And with Joe's new schedule the weekends are already jam packed.
I wouldn't normally show these here but I'm just amazed at a few things about these shoes.
1. That AT specifically requested robins and rejected the idea of a cartoony or falsely colored bird
2. That I've never painted birds before, not even to practice for these shoes, but think that came out pretty good
3. I painted something that I didn't want to immediately toss out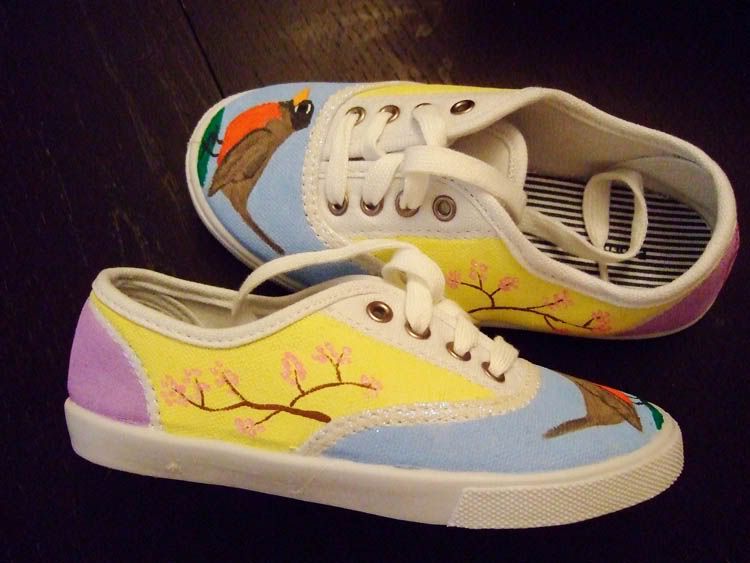 A few weeks ago I was dreaming wistfully of the day I could go to BlogHer, but I never really paid attention to when it happened so I didn't realize until yesterday that even if I could go, I still couldn't because it falls on the weekend before the start of school for us. That being the case I didn't even have time to log on for BlogHer@Home. I will visit all of you sweet ladies who paid me a visit though.
I tell you what, getting up before 6AM is kicking my butt! I'm trying to help myself out by putting cooked breakfast and dinners in the new freezer, getting the kids an alarm clock and setting one downstairs to give us a 5 minute warning. Another thing that I'm sure all of the parents - and teachers - would have found helpful is if the school had told us that the start time this year is 10 minutes earlier than previous years. Yeah, that's right. Even the teachers didn't know about it until this morning. I'm trying to pass that off as a side effect of chaos caused by furlough days leaving the teachers and staff only 2 pre-planning days to get everything together and not take it as a foreboding sign for the rest of the year.
AT is in 1st grade but this is her first time at "real" school. We did a combo of homeschool and short day school last year. Poor thing worries about so much. Among other fears, I had to help her talk through what to do if there is a tornado or if the power goes out. In the end I got a little smile and wave as she walked down to her class with neighbor E. Not a tear was shed, by either of us, though we both got close.
The rest of the crazy part of the weekend had to do with Joe, which should be no surprise. But I'll save that for another post instead of adding it onto this one.