I mentioned in my
Chronicle
that I didn't know what our budget would be for this special occasion (heck, if you've been reading you may remember that I wasn't sure that I even wanted to celebrate it). But after talking to Joe Wednesday night, it was clear he intends to budget as though he had a job, so I guess that's what we're going to do. The problem is, that in order to feel like I'm dressed appropriately for a nice restaurant, I'd need to go shopping. I'll save you the details of why I have a hard time finding clothes that fit, but I only found 2 things yesterday and I don't know which to wear! What do you think?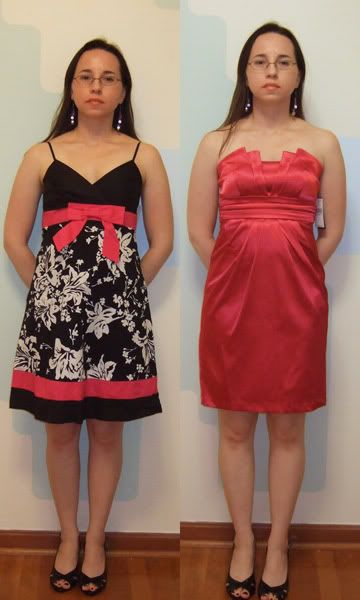 They both need to be ironed, so ignore that. Joe and I each like a different one. I'm not fond of big sash bows on grown women, but both of these dresses have it. I think I need to try to take that bow off the front of the first one, but it's not just tacked on so I'm not sure the cotton underneath isn't scarred. And the second one, well take a look for yourself...
A free lesson on why correct posture is important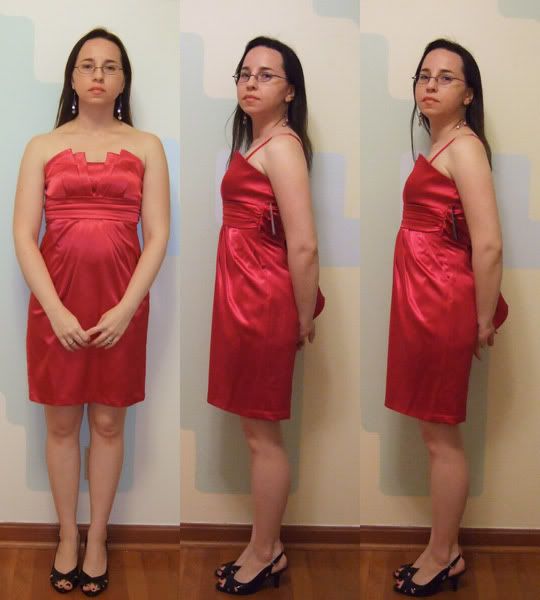 In the first photo, I'm standing correctly, but the shine and pleats don't exactly complement my baby belly (as in what was left AFTER babies). The middle one is also correct posture. The problem is that I don't always - or usually - stand with correct posture and the last photo is unflattering on the whole torso. (I noticed 2 things about the side views, the dress itself doesn't stick out past my butt, that's the sash and even though these 2 show the straps, I think I'll wear it strapless) Also, the cotton dress doesn't "hide" my baby belly, but since it's not pleated or shiny, it doesn't accent it either. So both dresses have their issues, but they're my choices. I need your honest opinion, unless you're going to tell me I look like a hag or resemble a troll, that opinion you can keep to yourself HA!