I do believe this is the first picture (of my own) I've posted here, though I've linked to some in the past that are on my
other blog
. This is my makeup for my Valentine's Day Date. I have on what I thought was a lot of eyeshadow, but it doesn't look that way here. Perhaps if you could actually see my eyelids...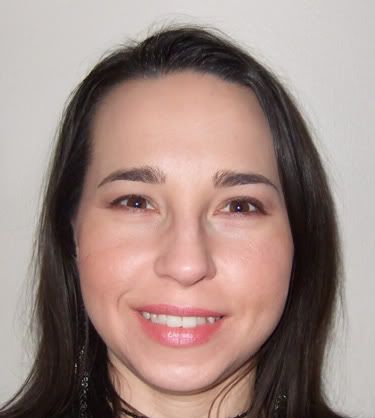 that must be what convinced my pediatrician to
repeatedly
ask my mother if either of my grandmothers was a Japanese WWII bride. Mentioning that makes me think that maybe I should seek out tutorials for eye makeup aimed at Asian women.
Even though I ended up using youtube when I was looking for some guidance on the ballet stage makeup required for my 15 year old's debut in the Nutcracker...
Wait, I forgot she was only 5

... it didn't occur to me to search youtube for makeup guidance for myself. Tweeter
@tisworthwhile
introduced me to the idea so I watched a few the other morning watching. Which is what convinced me it's the shape of my eyelid that's the problem. Oh well, I'm fine with that - no eye surgery for me! (I can barely tell the difference in the before-and-afters anyway) However,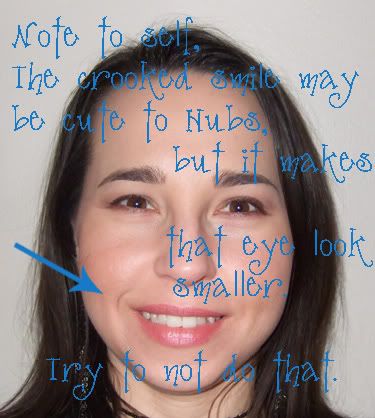 Coming soon Valentine's Outfit AKA Floundering in Closet for 5 Minutes to get Dressed before Dinner got Cold but I'd Still Need Help Even if I had 50 Minutes. AKA Another mention of Globetrotting in Heels nee
Unlikely Housewife
.
Meanwhile, just after I wrote this and had just scheduled it to post this evening, I logged onto Twitter to find a message from
@hipmom
with an eyeliner review. Must be the cabin fever from being stuck inside with kids so much that's put this topic on the mind of so many moms. Check out #beautyparty or #smokeyeyes if you're on twitter.